7th Annual System of Great Schools Summit
June 27, 2023
1:00pm - 11:30am
Hotel Intercontinental - Medical Center
Event Description
We are excited to announce the 7th annual System of Great Schools Summit will take place on June 27-29th at the Intercontinental Houston Medical Center in Houston, Texas. 

The SGS Summit will offer a series of shared experiences and learning opportunities, including opening remarks from Commissioner Mike Morath, panel discussions, and workshop content following four key strands: Leading Innovation, Innovative School Models, Access to Options, and Quality Authorizing. Specific information regarding sessions will by April; the following provides an overview of session content.
Who should attend? 
SGS district leaders and central office staff should plan to attend; this includes superintendents, board members, CIOs, CFOs, other central office staff, and support organizations. 

Districts can bring up to five people from their team. 
Where is it and when? 
Summit will take place at the Intercontinental Houston Medical Center from June 27-29, 2023. Please see the tentative schedule below.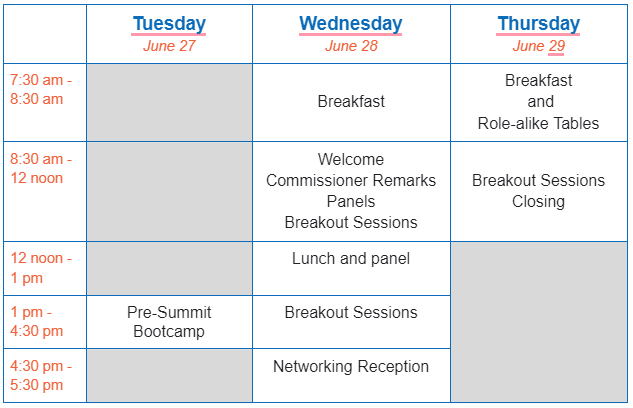 What are my next steps?
A registration email was sent out in mid-February. Registration will close on Friday, March 24. 
Summit FAQs
How do I register? When will I receive a confirmation? 
Registration is from February 17 - March 24, 2023. Registration information has been sent via email. If you did not receive this email and would like to, please contact rachel.lund@tea.texas.gov
When can I begin booking my travel and accommodations? 
Confirmation emails will be sent out in late March/early April. This email will include information on accommodations and reimbursement. We recommend viewing the GSA rate for Houston, TX before booking your accommodations.
Who should attend? 
SGS district leaders, such as superintendents, assistant superintendents, CIOs, CFOs, and board members are invited to attend. 
How many people from my district can I bring? 
Districts can register up to 5 people. If you would like to bring more people, please contact rachel.lund@tea.texas.gov. 
Which day(s) should I attend? 
The SGS Summit is scheduled from Wednesday, June 28 to Thursday, June 29. There will be a pre-summit session on the afternoon of Tuesday, June 27. Pre-summit is intended for new SGS districts and personnel new to an SGS district. However, all are invited to attend the pre-summit even if they are not new to SGS.